COMING SOON
Enjoy an enviable vantage point of the famous No.1 field and take in a 360-degree view of Auckland including the city's skyline and volcanic range. This unique experience is topped off with the perfect photo opportunity from the lean-out platform situated 34 metres over the hallowed turf.
The Sky Sport Rooftop Tour includes some of the best views of Auckland with insights on the city's iconic landmarks provided by our friendly guides who also have an intimate knowledge of the history of Eden Park. The tour will encompass parts of the stadium even its famous sporting heroes haven't seen.
Book the Sky Sport Rooftop Tour for yourself, as a gift for family and friends, or even as a team-building event.
Frequently Asked Questions
Acknowledgment and waiver of risk form (will be supplied before your tour for signing).
Some of my friends/family are not participating, do you have somewhere they can wait while I do the Sky Sport Rooftop Tour?
Our registration area has been designed for friends and family to comfortably wait for others to finish their activity. Here they can relax and enjoy the use of free wi-fi. Your journey will start and finish here.
Please note that children cannot be left unsupervised and an adult must remain with them at all times.
Parking
Parking at Eden Park is free however on match days there is no parking available in the immediate vicinity of the stadium. This will be clearly signposted and you can view the stadium's event calendar here.
Wheelchairs
Due to safety restrictions the Sky Sport Rooftop Tour is not wheelchair accessible. If you have a disability preventing you from participating in the Sky Sport Rooftop Tour we invite you to consider our Stadium Tour to learn more about New Zealand's national stadium.
Can I take my camera or phone with me on the Sky Sport Rooftop Tour?
Due to health and safety regulations all small items are prohibited. Cameras, phones, loose earrings, and anything that could fall should be locked away in the provided secure lockers. Your tour guide will take photos that will be available for purchase.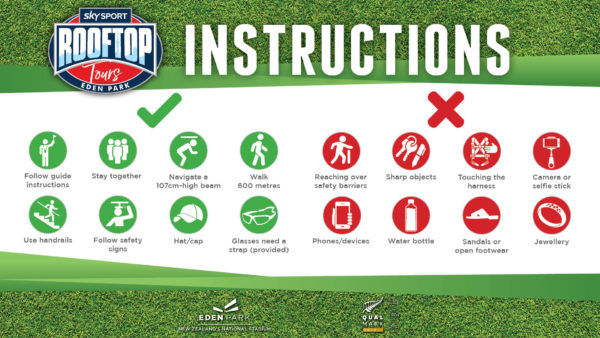 Will this go ahead in cold or wet weather?
We are lucky that we can operate in most weather conditions. Our custom jumpsuits can withstand wind and rain.
If Auckland is experiencing severe weather conditions, our experienced tour guides will decide if a tour needs to be postponed. Your safety always comes first.
My Sky Sport Rooftop Tour has been postponed, now what?
Our friendly team will help you reschedule your walk for another day. If you are unable to reschedule due to travel plans taking you away from Auckland, we will refund you.
Cancellation Policy

Partial or full cancellations must be made a minimum of 72 hours before the activity date.  All partial or full cancellations must be requested in writing.
Cancellation within 72 hours or a 'no show' will incur a 100% charge  and no refund of prepayment.
The cancellation policy will be enforced therefore Eden Park Trust recommends that the appropriate travel insurance be considered.
What is the refund policy?
If, for some reason, you are unable to do the Sky Sport Rooftop Tour we will first try and reschedule your walk for another day.
If we are unable to reschedule your walk, we will issue you the full refund.
This could be for one of the following reasons:
You are leaving Auckland within 24 hours and won't have time to return to do the activity
We are fully booked and unable to reschedule your walk before you leave Auckland
The crew has identified a reason you cannot complete the walk. This could be but is not limited to: being too young, being over the maximum weight limit or not being able to navigate through the lowest or narrowest part of the walk.
Sky Sport Rooftop Tour Pricing
$79 (special offer $69 voucher)
If you book the Sky Sport Rooftop Tour with any of our other Eden Park experiences, you will qualify for a 10% discount.
For group or game day bookings, please email info@edenpark.co.nz