Set up camp at Eden Park
Sep 14, 2020
Originally Published by Stuff.
There are only two times anybody is ever naked at Eden Park. The first is where some crazed nudist breaks onto the pitch during a packed game. Eventually, their night comes to an end in handcuffs.
The other is in the washroom; reserved for sporting greats.
And then there is the rest of us: tens of millions of us who have experienced Eden Park fully clothed. Until now.
I've just stepped inside Nood Dome 1. No, this isn't some experiment in naturism, it's a glamping tent. Nood refers to the designer furniture company – which fitted out the tent – not a lack of clothes. But it's your little room, so you make the rules.
There are two Nood tents inside the stadium, side by side, which is part of Eden Park's plan to diversify and offer experiences outside game days. You'll also soon be able to walk around the roof of the stadium, clipped on to a safety rail, and go for a zipline.
Usually "glamorous camping" is reserved for the quietest parts of the country; places where cell phone reception is weak, and birdsong is strong. Eden Park has done the complete opposite, becoming the world's first stadium to install a glamping dome right in the heart of a city. That means you get the whole place – which can fit up to 50,000 people – to yourself. And with that comes a few treats even some of the All Blacks haven't experienced.
There are two options when staying at Eden Park: a game-day or "stadium to yourself" experience. We tried both, and one is a clear favourite.
I've only ever stepped inside Eden Park when it's full of avid sports fans. Today, as we roll our bags into a silent stadium, not a single person in sight. The silence is goosebump-inducing.
It's only a 50-metre walk from the car park to the tent, which sits mid-way up the stadium between the North and East Stand. If you're there for a special occasion, you can even request a message to be displayed on a digital banner when you arrive.
The team at Eden Park has done an outstanding job designing the dome; it's filled with designer furniture, is heated, and has a small self-contained bathroom. There's even a welcome pack of goodies, including wine, cheese, crackers and stadium honey. I thought we had the place to ourselves for the night, but it turns out Eden Park is also home to more than 360,000 bees, which travel up to five kilometres in the summer to collect pollen.
Every glamping guest is entitled to a behind the scenes tour of the stadium, and we were lucky enough to be shown around by the stadium's historian Graham Walton, who first visited Eden Park 71 years ago.
Walton has a contagious passion for every inch of the place, particularly when he guides us to where All Blacks coaching staff watch the game. He also shows us where players get ready, and then leads us to the East Stand where he waits by a door to reveal "the stadium's secret".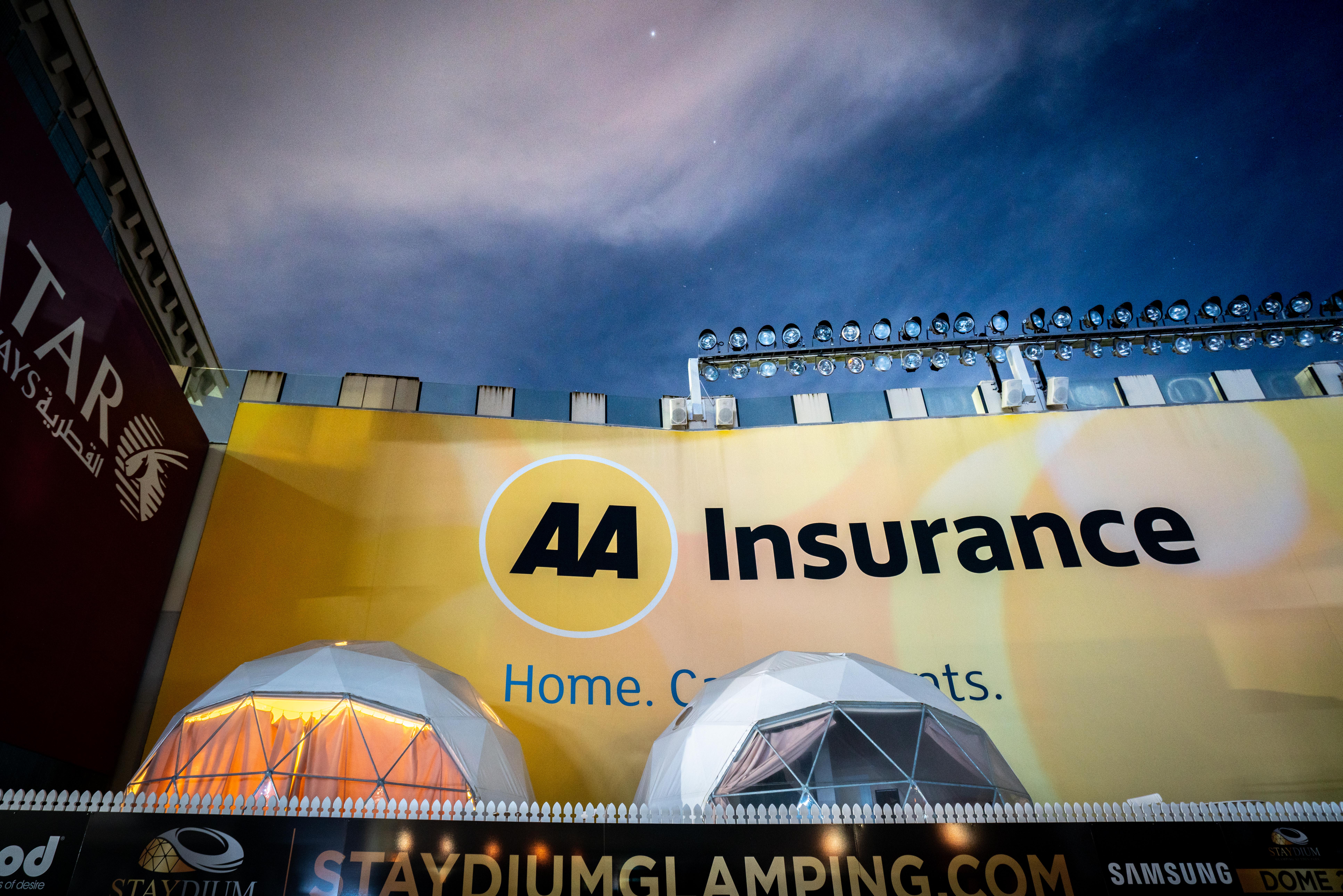 Perhaps we're about to see a trophy room? Or some kind of shrine to rugby boots? Instead, as the door swings open, we're greeted by sheer rock face, with a tiny little space for us to walk inside. It looks like we've stumbled across a meteor hidden inside the stadium.
Walton explains that when the East Stand was being developed for the 2011 Rugby World Cup, a giant two to three-storey rock was discovered, which a geologist believes was thrown from one of Auckland's volcanoes and lay undiscovered for 20,000 years. It was too big to move, or blast, so the stand was built around it.
Our tour ends in the players' tunnel leading onto the park, where the teams run out. Walton turns on a recording of the crowd noise from the 2011 Rugby World Cup final, adjusted to the volume the All Blacks would have heard. And then, among an almost-deafening roar, we're invited to walk (or run) onto the field. It's another goosebump moment.
After the tour, it's back to the tent to settle in for the evening. You can order UberEats (and skite to the driver you're sleeping at Eden Park) or head out to a restaurant. You're given a code to let yourself back in.
On return from dinner, I wandered around the moon-lit stadium by myself (although, there is 24/7 security onsite). It's a little eerie, with an unusual calm about the place you won't find anywhere else in central Auckland. It's almost spiritual, which I guess is fitting given Eden Park is a place of worship for sports fans.
The rest of the night was a little like having the only room in a giant hotel, and we pulled the curtains back to watch the sunrise over the empty ground.
GAME DAY
Match day in the tent was a very different experience. Before the game, we witnessed the stadium swing into action, with sound checks, pitch grooming and rehearsals underway. Then, as thousands of people poured into the grounds, we had two options. Stay inside the tent and watch the game from our TV (people blocked the view of the field from our window) or head up to the Members' Lounge where you get some of the best seats in the house included in your stay.
The real benefit is after the game: the short walk home. We did find the next few hours, until about 11pm, a little noisy as cleaners got to work. Likewise, the morning alarm turned out to be a large group of cleaners who enthusiastically – and with a fair amount of noise – started clearing trash at 0730am.
But it's important to remember that you're sleeping in an active stadium – and if sports runs through your blood – you'll lap up every moment.
But if you're after a more tranquil, restful stay, head there on a non-game day where you'll join a pretty exclusive club, one that most All Blacks aren't even a part of: those who have stayed the night at Eden Park.
Non-game day: $250 a night, including stadium tour and a welcome pack of goodies. Use the Stuff exclusive code STAYDIUM10 for a 10 per cent discount.
Game day: Price varies, depending on the match.
For More information Click here.